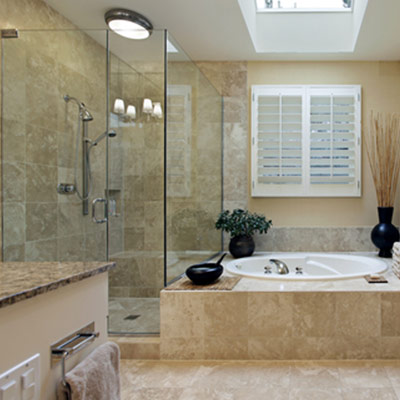 As a leader in bathroom renovations in Pasadena, TX, A-1 Shower Repair goes above and beyond to offer a number of comprehensive services to homeowners. Whether you're in need of a simple installation or you're in the market to completely refinish your custom bathrooms, we're here to offer you the unparalleled service and honest guidance that you deserve. Our family owned and operated business takes pride in each and every unique job that we do and that's the way it's been for more than 38 years. Take a look at a few of the ways we've been helping homeowners get the most out of their custom bathrooms and shower refinishing projects:
For more than 38 years we have been redesigning and remodeling old and outdated bathrooms into modern works of art. We offer seamless replacement of sinks, showers, bathtubs, tile, faucets, and much more. If you're in need of a professional bathroom remodeling job, call an expert that has been trusted since 1976!
Bathroom sink installation: Bathroom sinks take the full force of wear and tear, as we use them daily. Whether it's simply brushing your teeth or washing your face, over time our sinks will begin to show their age. Whether your faucet has begun to experience functionality issues or you're ready to upgrade to a more modern design, A-1 Shower Repair is here to make sure that your brand new bathroom sink installation in Pasadena, TX is one that will sparkle and shine for years to come.
Bathtub installation: Has the soap scum in your bathtub built up to an unacceptable level that just won't seem to scrub off? Have you noticed that your tub looks faded or worn as compared to the rest of your bathroom? When it's time to replace your bathtub—whether for aesthetic reasons or simply to replace it with a bigger model—choose A-1 Shower Repair to ensure that you're getting the perfect installation. We'll work with you to plan out your new bathtub installation in Pasadena, TX and help coordinate our efforts with your budget and your bathroom's layout.
Shower door replacement and installation: Shower doors are a beautiful and practical way to enhance the appeal of your bathroom. When you need shower repairs or upgrades, let us help you trade in that moldy old shower curtain for a brand new set of shower door replacements in Pasadena, TX that's easily washed, highly resilient and perfectly proportioned to open up your custom bathrooms. We'll help you find the doors that are right for you and install them at a price you can afford.
Toilet installation: Is your toilet giving you the flushing power you deserve? Are there signs of age showing through, such as cracks in the tank or discoloration around the base? If you're tired of walking into your bathroom and looking at a toilet that's old, sub-par or inefficient, let A-1 Shower Repair help you install a brand new model that's beyond your expectations. The best part is, with a new toilet, you're liable to save money on utility costs, while reaping the benefits of a more efficient flushing system and seamless functionality.
Wheelchair accessible showers: In the later years of our lives, it can be hard to stand in the shower and altogether unsafe in many situations. Those with physical disabilities also require a way to bathe in a way that's comfortable and easily accessible, which is why A-1 Shower Repair is intent on providing homeowners in these situations with shower refinishing that results in exceptional wheelchair-accessible showers. We'll take into account your needs and preferences and help construct an accessible shower that's tailored to your specific requirements.
Over 35 Years with Honesty and Professionalism
With all of these great shower repair services and more, it's easy to understand why A-1 Shower Repair has been the trusted source for any and all bathroom remodeling jobs in Pasadena and Houston, TX for nearly four decades. Contact us today at 713-947-7457 for a free quote or to learn more about our capabilities. We look forward to serving you!